Tuesdays 8.15 pm at Dorothy Browns Cinema, Arrowtownfrom 30 April 2019
Queenstown Film Society is all about movies. Great movies that you wouldn't otherwise get to see on the big screen. Old movies. Obscure movies. World cinema. Documentaries.
We're a community organisation that gets together on winter Tuesdays to watch fine movies cherry-picked from the last century of cinema. It's easy to become a member and great value at just $120 for the season of 20 films. We can't sell single tickets but if you want to get a taste before joining, why not come along to one of our public screenings.
Volker Schlöndorff, Germany, 2000, 103 mins (M violence, sex scenes & nudity) The riveting true story of a 70s West German terrorist who escapes to the East with the help of the Stasi. Entry to public by donation."Dramatically gripping…Superbly played by a cast mostly of unknowns" – Variety
All screenings at Dorothy Browns Cinema, Arrowtown, at 8.15 pm. The programme is subject to change without notice. Admission is members only; we cannot sell single tickets. There are no bookings, so get there early to be sure of a seat. French films are screened in cooperation with the Institut Français and the Embassy of France. German films are screened in cooperation with the Goethe-Institut.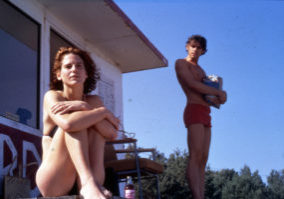 23 July 2019The Legend of Rita
Volker Schlöndorff, Germany, 2000, 103 mins (M violence, sex scenes & nudity)
The riveting true story of a 70s West German terrorist who escapes to the East with the help of the Stasi. Entry to public by donation."Dramatically gripping…Superbly played by a cast mostly of unknowns" – Variety